---
San Francisco, USA
---

---
Online Gaming = Advertiser Goldmine?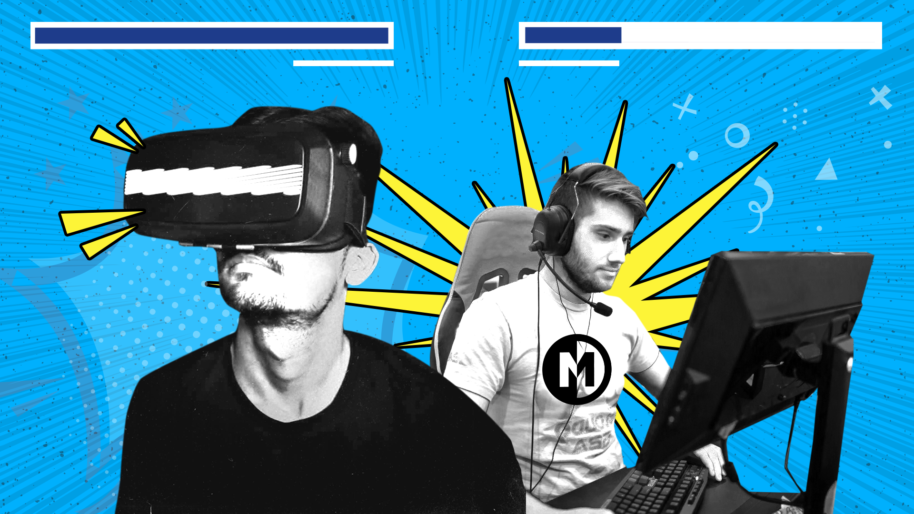 The game industry is booming and expected to make $152 billion worldwide in 2019.
With an average of 10.7% year-over-year increase it's expected to steadily keep climbing higher and higher.
Online gaming is a large chunk of that market and it's one that encourages engagement and interaction (e.g. picture crazy-busy Twitch chats) – meaning lucrative opportunities for advertisers.
The biggest Youtuber, PewDiePie, currently sitting at 101 million subscribers brought in $12 million "made through ads, endorsements, and affiliate links".
Twitch is looking to expand their affiliate program by introducing additional monetization tools (or in other words, opportunities for advertisers).
The gaming crowd is a tough one to crack and you need to know your target audience inside-out, but depending on the content and channels you get diverse and often times high-quality traffic for cheap.
End-users being in a constant interactive mode, clicking, engaging and chatting coupled with being around mediums they trust and praise means high purchase intent…given you've got the right products and services to offer.
Headphones, protective glasses, mouse pads, your own game (whether you're looking for leads, offering discounts etc.), apparel, gaming chairs, waterproof keyboards, game guides and the list goes on.
Industry growth prompted the FTC (Federal Trade Commission) to slap fines on giants like Warner Brothers and Machinima for not disclosing influencer collaborations and affiliate deals. The lack of transparency is likely to attract even more scrutiny from the FTC, but do this part right and you might as well be in for a goldmine.
The online gaming industry's rapid growth means you might wanna dive in sooner rather than later. Check out the full news piece by Venturebeat below.
---
4 Tips to Run Creative Meetings
Bad meetings cost US companies more than $399 billion.

Here are 4 tips on how to avoid turning your meetings into a complete waste of time.

1. Set a respectful tone

"We start, break and have lunch exactly on schedule. That leadership garners respect." – Marilyn Barefoot, of Barefoot Brainstorming.
Establish base ground rules:
One conversation at a time (no sidebars).
No interrupting or talking over each other.

Practice "yes, and," a technique from improv comedy where you actively listen and then build on ideas, rather than looking for ways to poke holes in what another person said. Tina Fey agrees on this point.

If you have an energetic group, introduce a "talking stick" where the person holding the stick has the floor until it's passed to the next person. A yellow pencil is great for this.
2. Make it visual
Use a whiteboard or a flip chart to display your main objective.
"Rather than a printed agenda, make your agenda visual to all," says Barefoot.
IDEO (big design company) takes it a step further with a famous idea – asking participants to sketch solutions to problems.

3. Guide participation
Use a combination of "kindness, humor, and a certain level of sass." to help create a comfy atmosphere for your participants. You'll make everyone feel more valued if you let them chime in – gently nudge the noisy ones to give the quiet ones a voice.
4. Finish strong
Stay on schedule and build in time for a wrap up where you reiterate the meeting's main objective and identify whether you've achieved it.
"And ask people to summarize the meeting in one word or a sentence," says Barefoot. "You want them to leaving thinking 'Wow, I want more meetings like this.'"
Read the full piece below (article says 5 tips but it's actually 4).
---
WEEKLY PICKS:
BIZ – Here are 4 low cost & high profit business ideas from GrowthLab: freelancing, coaching, e-boks and online courses. — Read more

CARE – Compassionate directness is essential for innovation. In a nutshell: reframe the conversation by saying, "I want to help you succeed and share information that will help you do that," — Read more

GREEN – PriestmanGoode redesigned in-flight products to a line made entirely from sustainable materials. Over 5.7 million tons of cabin waste are produced on passenger flights each year. — Read more

DESIGN – Being a great designer doesn't make you a great design leader. Let go of your ego, stop bossing people around and understand what motivates them. — Read more

ZEROBNB – Helsinki wants AirBNB to list sustainable homes on its site and makes ZeroBNB – a spoof site and a cheeky nudge to get AirBNB to add a "sustainable" category. — Read more

SHOWERTHOUGHTS – "Nice sweater, did your mother make it for you?" Is a sarcastic insult in elementary school, and a genuine compliment in adulthood." /u/ElderberryPerfumist
Source: Reddit
---
TABOOLA ABOUT TO MERGE WITH OUTBRAIN
Have you heard the news already? The two biggest native networks are about to merge. Yes, we are talking about Taboola and it's "rival network" Outbrain. Actually, it's not a merge, Taboola is about to BUY Outbrain. And it's not about peanuts at all 🙂
Taboola said it will acquire Outbrain for $250 million in cash and 30% equity of the combined company.
This will likely cause a pretty interesting situation for the publishers working with either of these networks. The reason is quite simple 🙂 For years, these two ad networks were literally competing for the available ad-space, each of them trying to get the best quality publishers under their wings.
Where there is competition, there is always the chance to benefit from it. So the biggest pubs could easily get a bit better conditions such as a higher revenue share, from either of the said networks. And that might be over now…
Then there is the media-buyer/advertiser side of things. Each of the networks has their approval rules and teams to enforce these. It will be interesting to watch how the "New Taboola" handles this. Will they choose the more strict approach or loosen the rules a bit? Time will tell.
One way or another, there is a "new" big player in the online advertising space and their daily reach is nothing short of amazing:
Outbrain and Taboola's clients include CNBC, CNN, The Washington Post and the BBC and the companies say they reach 1.2 billion and 1.4 billion people a month respectively.
---
FEATURED STM THREAD:
REMEMBER THE SCALESHIP PROJECT? $1000 PROFIT DAYS ARE CLOSE.
62 days ago, Timotej (wakeboarder) announced a very interesting project on the STM Forum. The goal was to focus on scaling a new product with his team. To stay fully focused, they even moved into a house together and decided to dedicate the next 100 days to this project.
The follow along, where he documents all the progress, has quickly become one of the most popular on the forum and Timotej regularly updates it. There is so much details in it, that you can definitely learn a lot from this thread.
And guess what? Things really took off for Tim and his team. They now cover several GEOs and the most importantly, they are already profitable in all of them. Just yesterday, they reached the magical $1000 profit mark (906 EUR, which is pretty much exactly 1000 USD based on the exchange rate we used to convert).
But, this is all just the beginning… they didn't even start to scale hard yet, because of some limitations with the production. As soon as these details are ironed out, the sky's the limit. We're really wondering how far they can take this project!
---
Stay tuned for the next edition of MRKTRS WKLY.
Want to offer some feedback or submit content? Email us at [email protected]