---
---
TikTok Ads in 2022: Everything Mobile Marketers Need to Know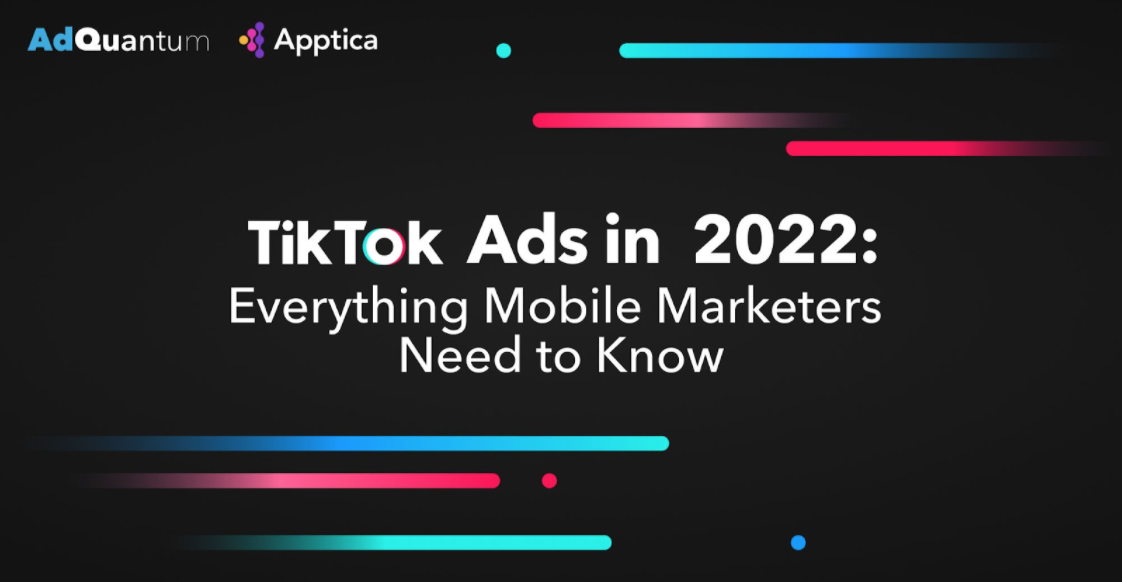 Two companies, AdQuantum, a mobile performance marketing agency and AdQuantum, a mobile ad tool, researched TikTok advertising trends over the past year and came up with the main points of high performance for mobile marketers in 2022.

Creative Format

The correct ad format is half the success of an ad campaign. The needs interests and lifestyle of the audience, in general, have changed. They no longer react to advertising that used to work 5 years ago. They want interesting, creative, entertaining and educational ads.

In 2021, these 3 types of creatives have proven themselves the best:

1. TikToks format: humorous short videos with trendy music and famous people. "Don't Make Ads. Make TikToks."

2. Sophisticated creatives: well-thought-out and meultilayer plot, high-quality camera work or animation;

3. Simple creatives for casual games, where only game mechanics are demonstrated and nothing more.
In TikTok, you can and hould be creative.

A recent study from TikTok and Newzoo reveals what users around the world prefer to see in ads: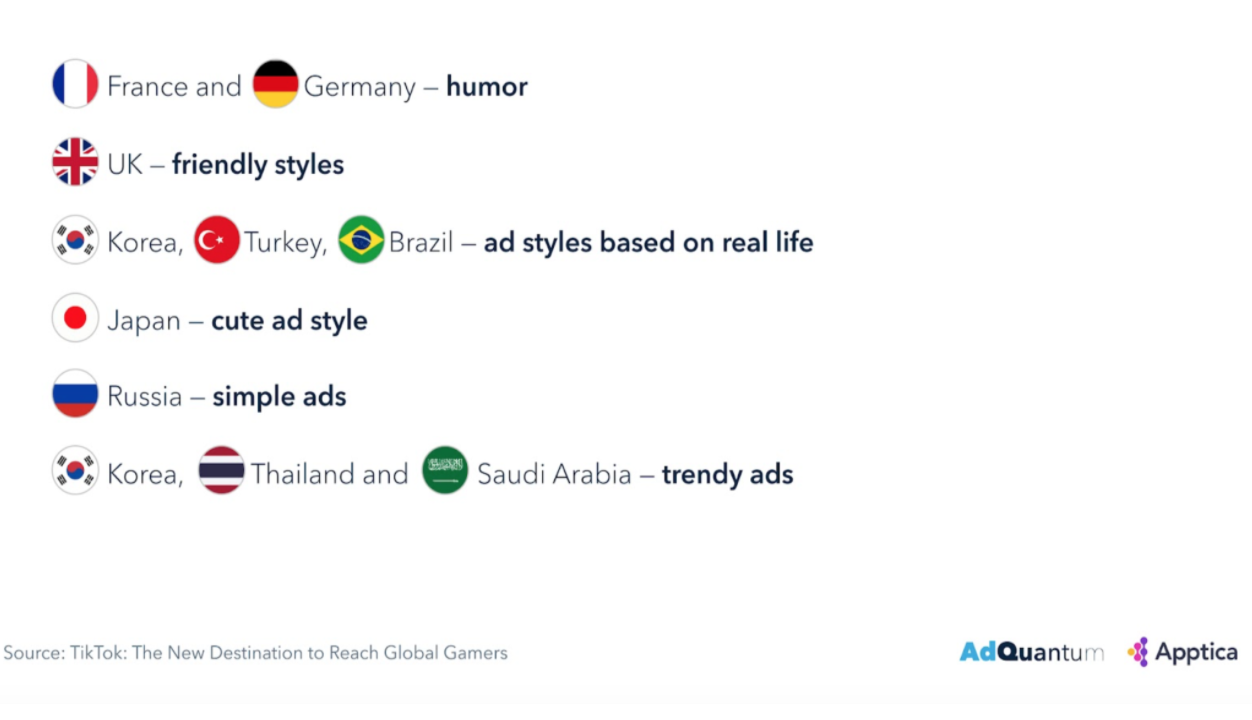 Length of Creatives

Most mobile app creatives on TikTok are 10-15 seconds. In the last months of 2021, the number of ads longer than 30 seconds began to grow. Now, the minimum creative length is 5 seconds and the maximum is 50-60 secs.

The optimum duration for TikTok ads is 15 seconds–users are used to perceiving information quickly without having to concentrate on one thing for a long time.

App Categories to Advertise on TikTok

In Q4 2021, ad creatives for casual, role-playing and action games were seen as best performing.

For non-gaming apps, the top performers were apps for Entertainment and Lifestyle categories, with Shopping, Utilities, Social and Music categories taking the second place.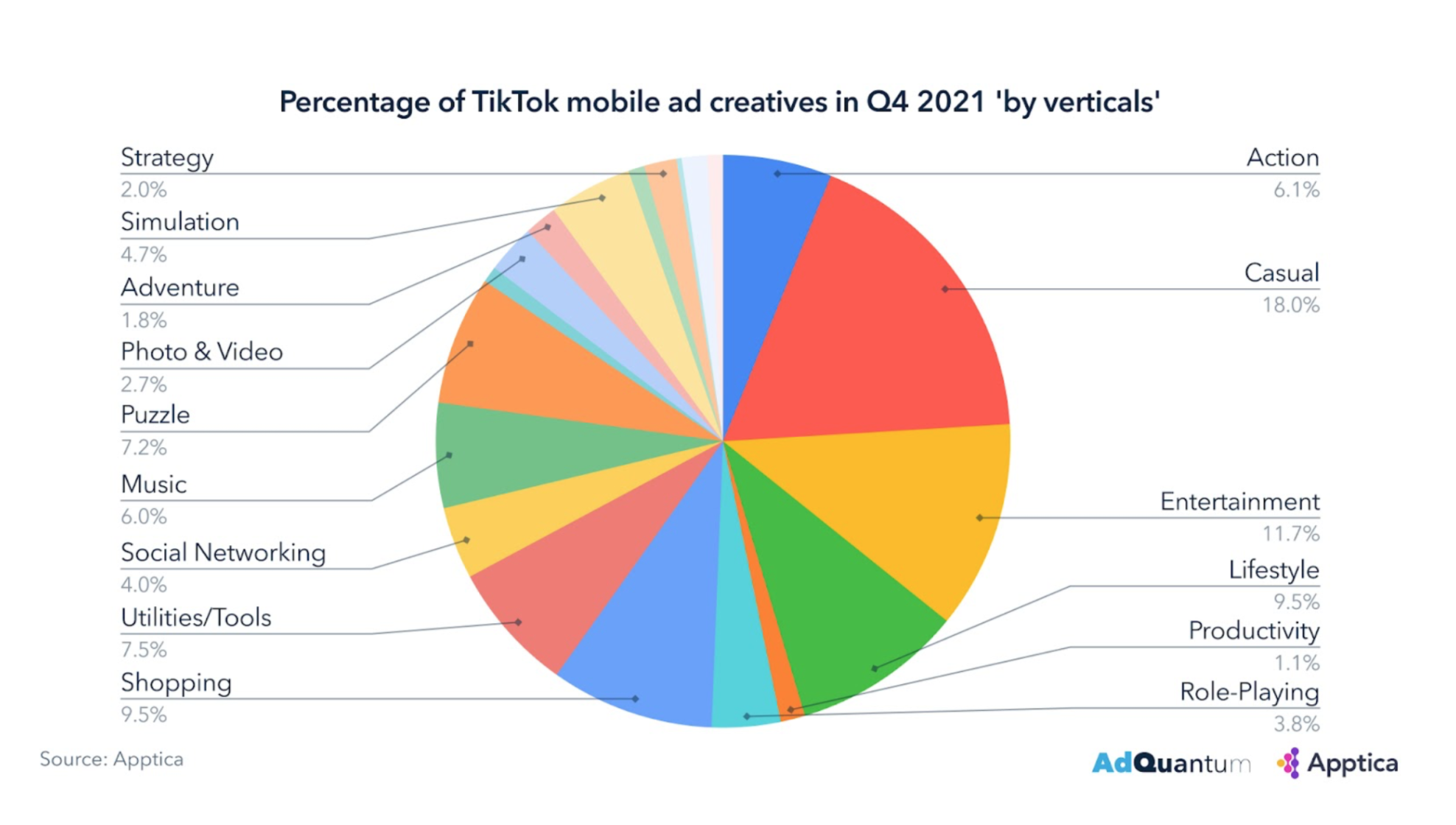 TikTok Ads Active Audience

Apptica recommends users in the 13-25 year old range as these users are explorers by nature.

Fun fact: TikTok gamers have less developed banner blindness, which is why ads are more effective for them than people who do not play games.

Geographies–creatives perform best in the US, UK, Germany and France. Second place split between Singapore, Brazil, Mexico, Spain, Italy and Russia.

Creative Burnout

Update creatives every 2-3 weeks, ideally once a week.

Sometimes creatives burn out in just a few days. Adquantun recently noticed that a creative burned out in just 3 days when they hit KPIs, but performance declined after.

Conclusion: keep your creative backlog full.

The Secret of ADvertising Sucess on TikTok
A good ad creative is one in which the value of the product is conveyed to the user as clearly as possible. And this applies not only to TikTok — it applies to any traffic source.
[SPONSORED] How to Create Profitable Native Campaigns?

Been wanting to explore native traffic with native, display and video ads?  Check out MGID's 6 steps for creating profitable native campaigns below!

1) Choose a Quality Traffic Platform – Consider the global advertising network MGID, where 96% of the traffic is fraud-free.

2) Choose an Offer – Do your research to find out which offers convert best.  Tip:  Financial offers (banking, financial and insurance) have always performed well on MGID.  (You can also ask your account manager for trends on geos and verticals.)

3) Prepare Creatives – Start split-testing from the beginning!  Make a few different creatives and pre-landers (make sure they follow MGID's guidelines).

4) Choose Your Bid – MGID has tools that can recommend how much to bid, and tell you how much traffic you can expect to get.

5) Choose Your Targeting – MGID allows you to target by geo, browser, devices, etc.  Tip:  Start with broad targeting to get data, then narrow down according to results.

6) Optimize and Scale – After collecting initial data, start optimizing your campaign!

Replace creatives and pre-landers that aren't working, with new ones to test, to increase your CTR and CR.  

Refine your targeting to exclude low-performing traffic segments.  

Use MGID's 

Selective Bidding Tool

 to exclude sources that aren't getting good results, or lower your bid for them.  

Increase the bid on sources that are  performing well to make more profits!
Your account manager will happily help you with optimization and scaling!

WTF is Probabilistic Attribution?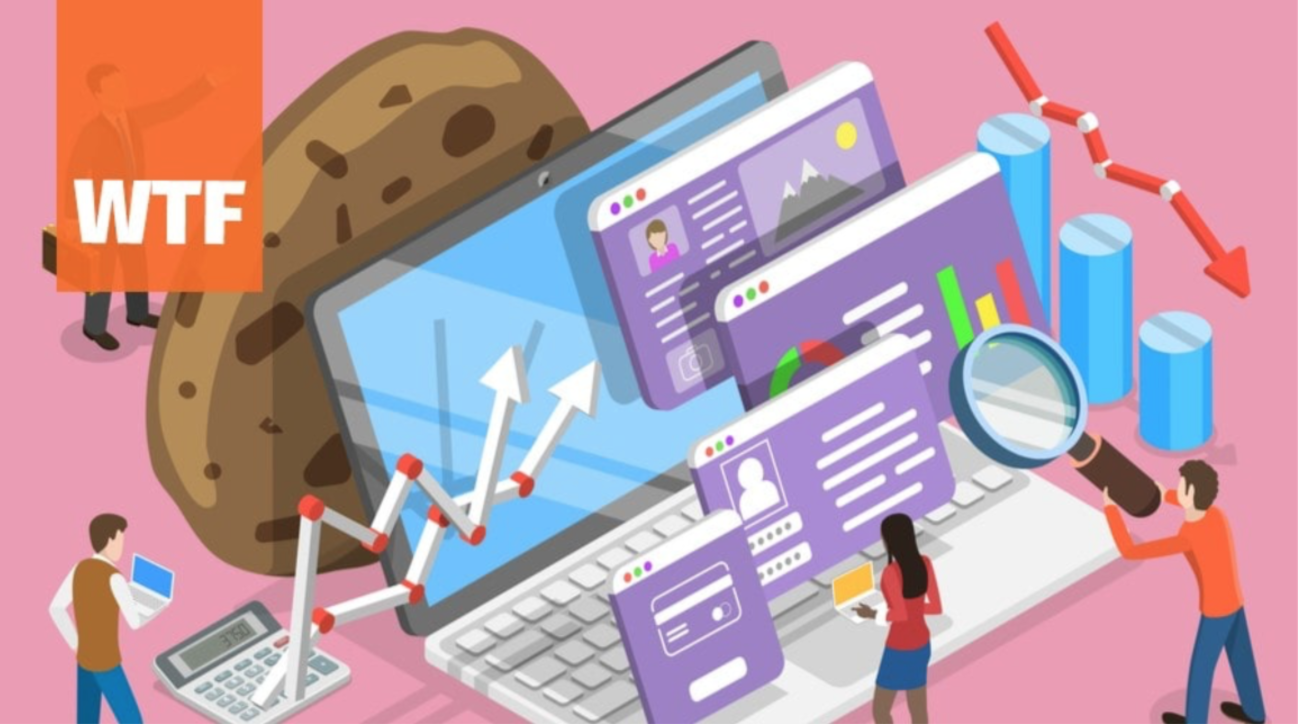 As the tracking landscape shifts, the ways of legacy tracking performance is coming to an end.

How then, as an industry, can we continue to correctly attribute sales?

Probabilistic attribution is a mobile attribution technique that is often used to recognise a mobile, laptop or browsing device.

The Death of Deterministic Methods

Apple's Identifier for Advertisers (IDFA), Google's Advertising Identifier (GAID) and cookies are what's known as deterministic methods. These methods use a unique identifier which is associated with a particular device.

An increasing number of users are opting out of tracking across the board, meaning there's an ever-growing amount of anonymous, 'invisible' users on the web.

How Does Probabilistic Attribution Work?

As the name implies – probabilistic methods work by basing attribution on probability. Relying on Machine Learning to identify conversions that will probably happen. These methods work by collecting behavioural data and trying to match it with other records that already exist.

It's much less accurate, but we may need to get used to it.
| TIKTOK #1: Google Loses Top Domain Spot To TikTok  >> Read more <<

| NFTs: The 15 Best Nft Stocks You Can Buy Today! >> Read more <<

| TT ADS: 12 Hidden Secrets To Create Killer TikTok Video Ads  >> Read more <<

| YT: YouTube Adds 4,000 TV Episodes And 1,500 Movies, All Free With Ads >> Read more <<

| Showerthoughts: Being too lazy to go out for junk food is a case of 2 negatives making a positive. by /u/fluffy_assassins
Source: Reddit
FEATURED STM THREAD: Scotty's Basic Rules For Mass Testing Offers On TikTok
When talking about TikTok, there aren't many people on STM who would know the platform better than Scotty, if any at all 🙂 So whenever this guy feels like sharing some of his best practices, you better listen!

So what's on the table today? Scotty's basic set of rules for mass testing offers on TikTok.

It goes like this:

Rule 1: $200 starting budget

If leadgen: I check for conversions and look for a minimum of -50% ROI before giving it any more cash.

If Ecom: I'll want at least 4-6 Initiate Checkouts or 10~ Add to Carts depending on the funnel events

If it doesn't have IC's, ATC's or conversions that equal -50% ROI or better, I kill it.

Rule 2: 3 by 3

For every offer I test, I write down 3 angles then create 3 unique videos based on those angles.

When setting up the offer, I do a non-CBO campaign with 9 ad groups total.

Each video has a standard Ad Group, wide-open (25+ male/female android/ios no interests).
I then duplicate each of those Ad Group's twice so each video has 3 ad groups.
This provides each video a fair chance while also accounting for bad pool's

Want to see rules 3 and 4? Check the thread on STM, link is below.