---
USA
---

---
😱 Amazon Fires 3 Lawsuits Against Affiliate Marketers
Amazon fired 3 lawsuits in Georgia, Michigan and Texas to stop fraudulent affiliate marketing schemes.
The schemes spammed email addresses with Amazon branded-emails to entice link clicks.
Traffic was then direct to other online marketers operating phony Amazon-branded surveys.
In a separate scheme involving Ryan Becker, Jeff Skeldum, Marc Barnum, and Steve Vernikov, the bad actors said they:
"Acknowledge Amazon's strong interest in protecting consumers from deceptive advertising and agree to refrain from using Amazon's trademarks or brand in any internet marketing"
---
[SPONSORED] Grab Free eBooks + Bonus Traffic from RichAds
Running push, pops, native, or display traffic? Don't miss out on these 4 gifts we've prepared for you at RichAds!
📕 Running Push? Gambling = $$$$$! Free Guide 💻

With people sitting at home bored, gambling offers are ON FIRE!
Download ROI-improving tips from the industry's top experts:
📚 DOWNLOAD: Ebook+Webinar – How to Run Gambling on Push
(Spoiler: Best-converting gambling offers revealed!)
Why Run Push Traffic with RichAds?
Unique subscribers base

Whitelists for your GEO/Vertical

Micro bidding and automated rules
▶️ New to push traffic? Check out Ian Fernando's video tutorial on how to launch your first push campaign.
🎓 Running Pop? Download These 100 Tips!

Pop traffic is doing great – with its huge volume & low prices.
Check out our new e-book with tips from top affiliates including Servando Silva, Luke
Kling, iAmAttila, and others.
📚 DOWNLOAD: 100 Tips on Pop from Pros

Why Run Pop Traffic with RichAds?
Source Sampling

Micro bidding

Automated Optimization
🎓 Running Native or Display? Get First-Mover's Advantage!

Looking for a new traffic source with a unique audience and huge volumes?
Get traffic from mobile phones, browsers, major media projects, and networks. We are integrated with BitTorrent, UC Browser, Viber, Opera, and many others.
Get in NOW while it's in private beta! Register on RichAds and ask your rep for more info.
💰 Bonus Traffic for STM! 💰

Get 15% BONUS on your first deposit by clicking the link below and using promo code STM152020 (valid until June 19).
💰 BONUS: Get Your 15% Bonus Traffic!
(RichAds traffic is verified by AdScore.)
---
[Infographic] 88 Compelling Words and Phrases That Prompt Visitors into Action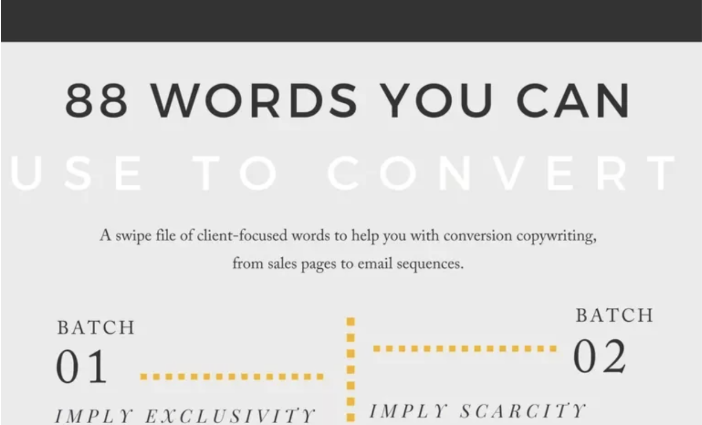 Ashlyn Writes shares 88 words and phrases to boost your performance in this infographic.
Broken down by the following sections:
– Imply exclusivity
– Imply scarcity
– Lower risk
– Power words
---
Weekly Picks
TikTok – TikTok Shares Case Study on How to Implement a Branded Hashtag Campaign #️⃣ — Read more

FEAR – How To Live With The Fear Of Failure While Building A Business 😱 — Read more
Q&A? – 25 Answers to the Most Frequently Asked Questions in Content Marketing ❓ — Read more
REMOTE – Best and Worst Qualities for Remote Employees 🤗 — Read more

SHOWERTHOUGHTS – "Waking up and getting up are two entirely different negotiations." / u/halfcow
Source: Reddit
---
Why You Should Be Using Google Discovery Campaigns
Google announces a worldwide roll-out of its Discovery Ads.
What are Discovery Ads?
A visual ad format that runs across the Google Discover Feed – shown on the home page of the Google app or the Google.com homepage on mobile, Youtube's home feed and Gmail.
The format focuses on large, visually rich experiences and its core focus are audience interests, similar to audiences and interest targeting on social networks.
Experts are seeing great results despite the low conversion rates:
"What we've seen are very low CPCs (like less than $0.20), and high CTRs (5% and above). Conversion rates are relatively low (usually less than 1%) but because the clicks are so cheap, you'll still end up with a very profitable cost per conversion."
"Our CPLs were around 25% less than that of our other display and YouTube campaigns." – Amy Bishop, Owner at Cultivative Marketing
---
FEATURED STM THREAD:
Not Your Ordinary Campaign Guide!
There are campaign guides… and then there are CAMPAIGN GUIDES 🙂 We have both on STM, but the one I wanna point your attention to, is kinda special. Why you might ask? Cause it's utilizing approach that was supposed to be dead, long time ago.
Direct Linking… remember what that used to mean? The OGs do, the new affiliates probably don't, but this is what we refer to as the good old times. No landing pages, no pre selling… just buy the click, send it to the offer and profit.

And while we all kinda believe this approach won't work anymore, one of the STM mods brings you proof that it still can perform well enough. $7000+ in revenue, using "international" offers, directlinking… the perfect method for any newbie.
If you're gonna miss this one, we can't help you anymore, sorry…
---
Stay tuned for the next edition of MRKTRS WKLY.
Want to offer some feedback or submit content? Email us at [email protected]