---
---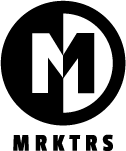 ---
🚨 [CRAAZYY] You Ready For Ad World 2020?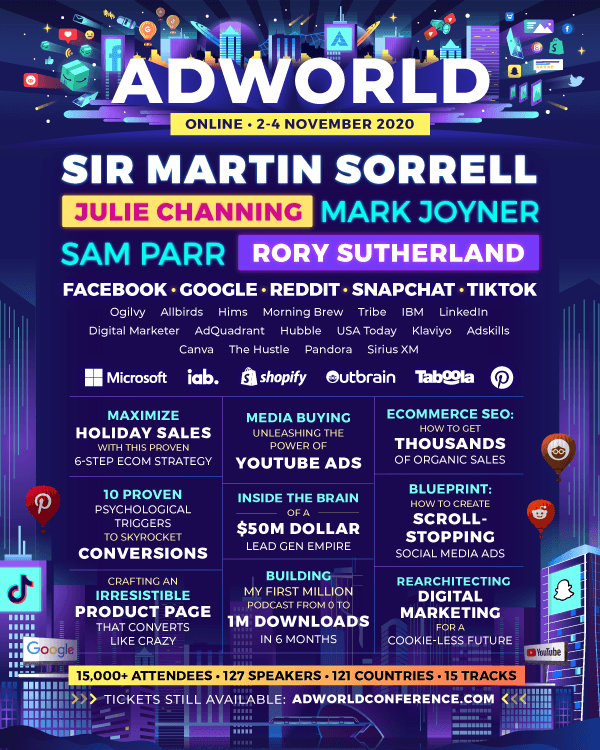 Ad World just posted this absolutely mind-blowing poster on Facebook. (or click the image above to see it in all its colourful glory)
The clock to Ad World 2020 is ticking FAST, are you ready??
15,000+ of the world's most powerful marketers, advertisers, brands, entrepreneurs and founders are gathering for THREE action-packed days of networking and masterclasses.
127 Speakers in 121 countries and 15 tracks.

Here's a quick refresher of what's coming.
Crazy big names and insane numbers all around:
– Rory Sutherland from Ogilvy
– Sam Parr from The Hustle
– Nils Costerg from TikTok
– Jodi Goldberg from Google
– Ashley Vinson from Facebook
– Ashleigh Rankin from Reddit
– Big names from the affiliate industry such as Jason Akatiff from A4D and many, many more.
…to name just a few.
But there's a problem…
Ad World ticket prices are increasing at a head-spinning pace because there are now over 15,000+ attendees (way above the initial marks and there will be tons more).
The good news?
As of right now you can grab a ticket for just $129 (reduced from $299) AND get a FREE 1-month STM membership!
This deal is going to be over in about 4 days ad 3 hours (meaning the price will jump up again).
And we don't know how long the free STM membership bonus is going to be around for.
Hurry up and grab those tickets!
> Give this post some love and then grab your tickets before the prices jump up! <<
---
[SPONSORED] Turn Your Landers into Cash Cows
Hey there!
We bet you're still looking for new methods to make more money on your offers.
ProPush.me is the right place to come in order to increase your revenue. Here you can do extra monetization of your landing page with push subscriptions.
This method doesn't disturb your conversion flow. The user not only completes a targeted action on your page but also subscribes to push notifications, bringing you extra money.
Quick steps to start earning more:
Register in ProPush.me.

Put our Smart Tag on your landing page (any vertical, any offer).

Drive traffic to your landing page as usual and additionally collect push subscribers and be paid for each subscriber.

Profit!
No matter the vertical is, you can additionally monetize your landing page.
Now, the most interesting part — MONEY!

Top CPS (costs per 1 subscription) rates* for mobile:
New Zealand — $110

Australia — $90

Canada — $74

United States — $64

Japan — $60
Top CPS (costs per 1 subscription) rates* for desktop:
New Zealand — $102.8

United Kingdom — $100

Canada — $100

United States — $98.8

Australia — $82
*Please, pay attention. The rates above are for the 1000 subscriptions, they are default and may vary depending on traffic quality, volumes, and few more parameters

JOIN PROPUSH
Here is the instruction on how to start working with us and here is the interview with affiliate marketer about monetization traffic with push subscriptions.
---
Weekly Picks
G SUITE? NO. – G Suite is now Google Workspace because 'work is no longer a physical place' 🦚 — Read more

GOT IOS? – These are the best podcast apps to download in 2020 if you're an iOS user 📱 — Read more

NON-FICTION – Ten New Books That Connect the Past to Our Present-Day Malaise 📚 — Read more

TRUST ME… – How to Build Trust with Ecommerce Buyers This Holiday Season 😈 — Read more

SHOWERTHOUGHTS – "Spending a few hours reading a book feels a lot more productive than spending a few hours reading stories on the internet." / u/R3dChief
---
Swedish Agency Designs Genius Social Distancing Bag – the 'No Douchebag'
Forsman & Bodenfors in Sweden has a genius solution for public transport operator Västtrafik to help people create space.
It designed the "No Douchebag"…bag – commuters are actively encouraged to place the bag on the seat next to them to discourage douchebags from getting close.
Quote:
"The first 1,000 of the brightly colored bags were given away for free at Central Station in Gothenburg, Sweden, last week, with more to follow. Text on the design reads: "I'd love to sit next to you, just not right now. Thank you for keeping your distance."
>> Remember to keep your distance! And wear your masks! Go check the full piece here <<
---
FEATURED STM THREAD: Should Newbies Focus On $3/Day Profit Campaigns?
In case you haven't seen it yet, Twinaxe posted another great thread in his newbie series and we really think every AM newbie should read it. What is it about? Well, it really puts some things into perspective. Let us explain below.
Every newbie joins the affiliate marketing business with one ultimate goal: to become rich, quickly 🙂 They have great expectations, focus on huge profit numbers and most leave frustrated, a few weeks later.
Twinaxe suggests a different approach. Don't try to make the most $$$ straight away, focus on losing the least instead. To put it simply, it's better to stop chasing dreams and aiming for unrealistic numbers and to focus on attainable goals.
As the title suggests… even a $3/Day profit campaign can make a difference, though it sounds very low. With a lousy campaign like that, you would end up with $150 profit at the end of the month, which can cover your server and tracking costs… then build up from there. It's really surprising how quickly the profits go up, when you scale these mini-campaigns to several sources.
Twinaxe goes into detail in his thread, naming the most important things and factors that directly impact the success of your possible AM career. This is a thread you really want to read, in case you're just starting out.
---
Stay tuned for the next edition of MRKTRS WKLY.
Want to offer some feedback or submit content? Email us at [email protected]