---
? Barcelona, Spain
---

MRKTRS 

x

 STM WKLY #84
---
[OFFICIAL] AWE19 LINEUP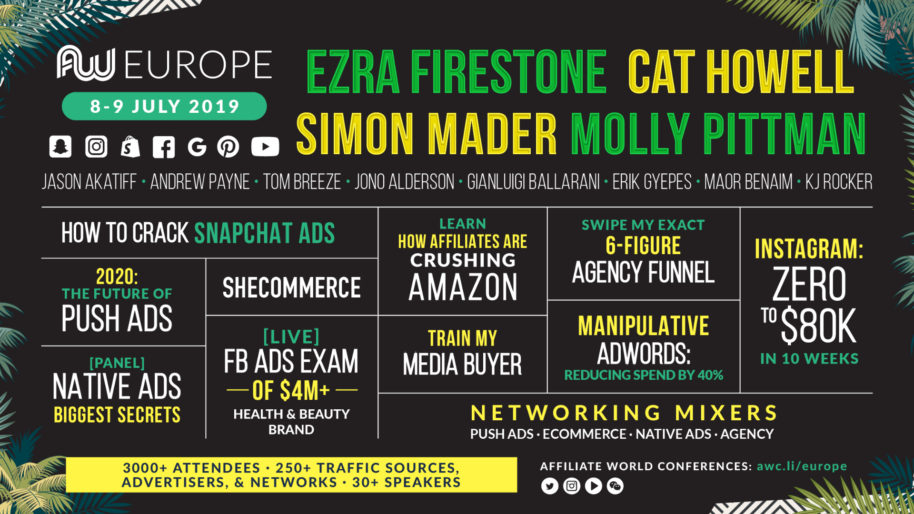 Got plans on July 8th and 9th? Well, you do now.
Affiliate World Europe have just released their funky festival poster with some massive names and their widest range of topics to date.
From newbie to super affiliate, they've got you covered.
3,000+ of the affiliate marketing industry will be descending upon Barcelona for what can only be dubbed as the biggest & baddest affiliate event this summer. 
Here are a few highlights:
Ezra Firestone on his 8-figure brand blueprint

Samuel Bevan of Snapchat on how to crack lower CPAs

Anton Merkulov talks Push Ads in 2020

Simon Mader on 5 agency mistakes costing you $$$

Gabriella Rapone on her 9 email hacks

Molly Pittman doing a live FB ads exam of a $4M+ brand
Plus you'll get access to 4x Niche labs on Native Ads, Push Ads, Ecommerce traffic & branding & building your Agency.
Aaaand access to Affiliate After Hours (the networking event to end all other networking events)
See you there? 
---
USER ACQUISITION IS DEAD: CREATIVE IS KING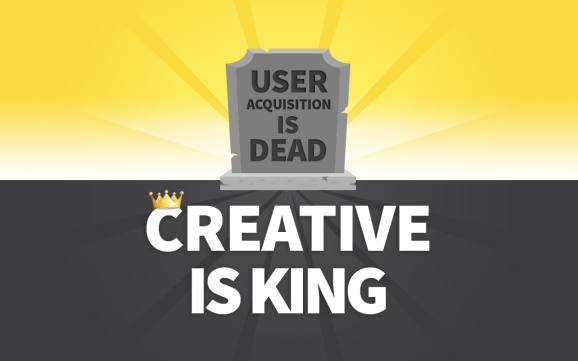 User Acquisition as we've known it is dead. Or at least, dying.
Ad platforms are getting smarter. Bids are handled automatically. Campaign management is far less intensive than it used to be. Even testing creatives has virtually become automated by mainstream platforms like Google and Facebook.
So… Is there a future for User Acquisition managers? Of course.
There's one thing that AI is some way off from figuring out – creatives.
Creative Analysis (your own and your competitors)
Creative Testing (using the right methods for testing and getting test results as efficiently as possible)
But like most things in our industry right now, embrace change and don't fear the algorithms. Let them do their thang, and work with them. Not against.
This piece from venturebeat offers some useful tips for how UA managers can stay one step ahead:
Focus on quantitative creative testing to uncover winners (ie test a lot)

Creative teams must be data vs brand driven.

Establish systematic ways to analyze competitors' ads.
Work closely with your ad partners to increase creative volume.
Diversify: prepare to manage more ad networks (FB, Google Apple, etc…).

Embrace the challenge of balancing left-brain versus right-brain skill sets and tasks.
Check out the full article below to read more on why they believe user acquisition is dying.
---
WEEKLY PICKS: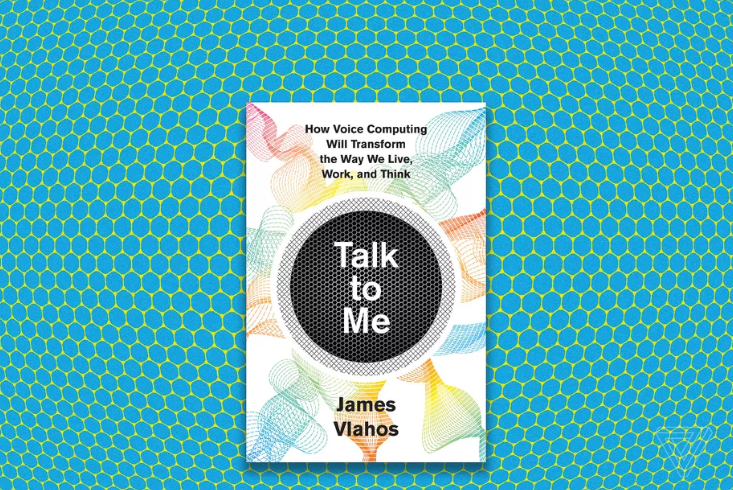 TALK TO ME – In a complete u-turn from the above, here's an example of a computer being creative. Through voice AI ?️ — Read more
COWORKING – The Airbnb for Coworking has arrived. Codi lets people rent out part of their living room to local freelancers who are sick of the coffee shop  ?️ — Read more
GAMIFY – How do you motivate employees to outwork each other even on arduous tasks like fulfillment? Jeff Bezos literally created a game to award points for fulfilling orders in Amazon's warehouses. And it challenges teams against each other. ⏳ — Read more
MEATBALLS – Hungry? Live in Helsinki, Finland? Well, Wing (subsidiary of Google) is offering to fly you some meatballs by drone. Tomorrow has arrived. ? — Read more
WELCOME – Need to write an automated welcome email? Here are some useful tips. Including one particular MRKTRS Pro Tip: ask to be added to recipients' contacts ? — Read more
SHOWERTHOUGHTS – "Sure, sleep deprivation shortens your life expectancy, but humans spend over a third of their lives asleep. So, by sleeping less, in a way you are living longer." u/HowLz_2K
Source: Reddit
---
TO SPY OR NOT TO SPY, THAT IS THE QUESTION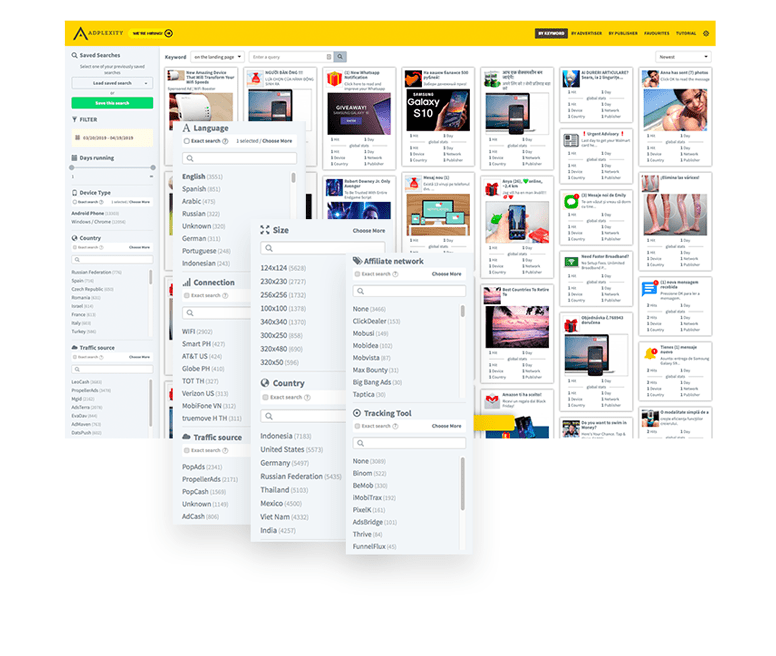 Actually, it's not a question at all! Affiliates who are not spying on their competition are losing out, simple as that. And we're not suggesting to copy someone else's campaigns like a dummy either. Spying is competitive intelligence, possible profit booster or money saver, when used correctly.
Many affiliates struggle to come up with new ideas for their creatives or landing pages. Even the most creative ones have their limits and sooner or later, they run out of ideas. And that's another problem that can be solved with spying.
Check what others are running, pick the stuff you like, tweak and change some elements and there you go. Clever affiliates are doing this all the time. They don't just copy, rip and run, those days are over from the most part anyways. Smart business people (not only affiliates) look at their competition to get inspired. They follow their steps and learn from their actions.
Spying on your competition can be a time-consuming task, or not, depending on how you approach it. You have 2 options to choose from:
Manual spying
Using a spy tool
Manual spying is preferred by many new people, simply because it's free. All they need is a VPN subscription and some agent emulator plugin. What people often don't realize, is the amount of time spent on this activity. It can take hours to go over all the sites/apps you want to spy on. This time could have been spent on more productive tasks.
And that's not the only problem. Traffic networks detect most known VPNs, which results in "bogus" ads being displayed. And on top of that, it can be challenging to find the right sites to spy on in the first place.
That's why it's better to rely on a spytool! Just make sure to choose the right one. For a few years already, Adplexity has been the market leader and it's also the preferred choice of the MRKTRS & STM teams.
Adplexity offers several variations of their product. There is one for mobile, desktop, native, ecomm, adult and even mobile carriers. But they've been missing one important variation: PUSH. And that's over now. And the best part: It's free for a limited period of time!
The Push version may have launched publicly a couple of weeks ago, but it's already the best Push spytool out there.
Here's why:
Both mobile and desktoppush campaigns in 82 countries.
All the popular traffic sourcesare covered. PropellerAds, LeoCash, MGID, Datspush, Evadav & more.
Every landing page with page dependencies (images, css, javascript, …) can be downloadedin a .zip file.
Detailed campaign insights(ad trends, GEO, full redirect chain, top publishers and more).
Fast search(by keyword, advertiser, publisher, affiliate network…).
This tool can definitely help you reach profits with Push traffic quicker, period! We are not sure how long it'll remain in BETA, so grab your free access while it lasts. And one bonus at the end! All STM members are eligible for a 30% lifetime discount for ANY variation of Adplexity.
---
FEATURED STM THREAD:


SO YOU REALLY WANT TO SPY MANUALLY? OK STM HAS YOU COVERED 🙂
We just told you about the option to get the best free SpyTool for Push in the article above. But if you really want to do it the hard way, no problem, we have you covered. One of our experienced members (twinaxe), just posted his simple method of spying manually.
It's laid out in there, including the tools needed. Twinaxe uses two methods. One depends on smartlinks, the other one on particular placements. He even shared a simple trick on how to find the actual placements. Enjoy!
---
Stay tuned for the next edition of MRKTRS WKLY.
Want to offer some feedback or submit content? Email us at [email protected]