---
? Koh Rang Noi, Thailand
---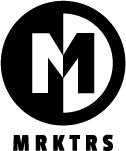 ---
MRKTRS WKLY #13
Here's how much billion-dollar tech giants are spending on their research and implementation of AI. – read it all here.
A massive week of action went down in Bangkok and ended in style on STM Island – some early highlights can be found here.
A peek into swimming in Mark Cuban's Shark Tank – read the interview here.
Elon Musk's advice for entrepreneurs – see it here.
Missed Blockchain World Conference? Here's some notes from the event from an attendee – read them here.
The best carry-on luggage travel hacks – read them all here.
All of this and more in the MRKTRS newsletter ?
---
ARTIFICIAL INTELLIGENCE: WHO WILL REIGN SUPREME?
"All these companies understand that whoever owns that choke point for consumers will rule the market," Pedro Domingos.
In 2017 companies globally have completed around $21.3bn in mergers and acquisitions related to Artificial Intelligence – 26 times more than in 2015.
Machine learning is at the core of these acquisitions – computers that will sift data to recognise patterns and make increasingly accurate predictions autonomously.
From AI-powered VA's, whether through phones or smartspeakers to AR (augmented reality), there is a knowing sense of inevitability that society will be lead my AI. Especially with autonomous vehicles gaining momentum fast – they're literally driving millions of miles to beef up proprietary data.
This article from The Economist have laid on a number of eye watering stats and interesting facts:
Nine-figure start-up's that are unprofitable are valued purely on their $5m-10m-rated employees.
Amazon has 80,000 robots in fulfilment centres alone.
Google Brain successful applies machine-learning to enhance their search algorithms and are they aiming to crack "general intelligence" (uh-oh).
IBM have spent $20bn on companies alone over recent years.
To date tech giants have mostly tried to apply AI to reap profits from their existing operations. In the next few years they hope that AI will let them build new businesses.
So…Who is leading the way?
Google.
Because they are owning the metrics that count—talent, computing power and data. They can afford the cleverest people and has such a variety of projects, from drones to cars to smart software, that people interested in machine learning rarely leave.
Other firms had to learn to take AI seriously, but Google's founders were early devotees of machine learning and always saw it as a competitive edge.
---
SWIMMING IN THE SHARK TANK: HATER'S EXPERIENCE
Brendan Alper launched his dating app with a twist – Hater – on Valentines Day this year. It matches people based on what they hate rather than what they love.
And Mark Cuban was hatin'. In the right kind of way. 
He pledged $200,000 in exchange for a 10% stake in the company. Half the value of another investor.
Alper explains:
How and why he launched Hater.
What it was like to face the Sharks.
Why he chose Cuban over Barbara Corcoran.
How his investors reacted to Cuban's cut-price offer.
The future of Hater.
---
MUST WATCH: ELON MUSK'S ADVICE

Elon Musk offers some deep advice for entrepreneurs that is the bedrock to his drive and consequent success.
---
BWC BKK: THE ROUND-UP
Here's some quick notes from Blockchain World Conference from Chris Osborne of CryptoWeekly:
An interesting way to evaluate ICO's is following the 4 T's: Timeline, Team, Token and Technology (not necessarily in that order).
A company that has held an ICO can currently sell the company and its assets without the need to sell the "ICO assets" due to little governance, which is worrying for many.
Many speakers agreed that Gibraltar, Austria, and Switzerland are the best countries to setup Crypto companies right now.
One speaker had the opinion Bitcoin would see a huge surge in March due to Chinese New Year.
Another speaker had the opinion that more VC's would be pushing their portfolio companies to launch an ICO, mainly for faster liquidity for the VC's.
Governance was a huge topic at the event, with many agreeing A.I will have a huge play over the next few years.
I personally learned more about NEO thanks to Da Hongfei speaking at the event, which on paper has some clear benefits over Ethereum.
I also came across the Blockfolio app as a result of attending, which I'm really impressed with.
---
PHOTO OF THE WEEK: THE MRKTRS MOB w/ ISLAND LIFE
? MRKTRS let loose on a private island. Here's some early coverage of the carnage.
Check out the full album here
Submit your best work/lifestyle photo or video in the MRKTRS Facebook Group?
---
FLYING HACKS: CARRY-ON SNEAKIES
What are the best carry-on life hacks when traveling?
The Quora community pitch in their thoughts in this Travel Hacks thread:
Efficiency: carry solid toiletries e.g Shampoo bar. They save space, weight, hassle, money and evade the 100ml bottle size restriction.
Space-saving: instead of folding, you should roll! Then place in a zip-lock bag to replicate a vacuum-packed bag (plus weight limit is not vital, airlines rarely check).
Pack a spare pair: incase your checked-in luggage goes walkies, pack a change of clothes. It also pays to have all medication with you in your carry on for the same reason!
Hydration & illness evasion: bring an empty water bottle to refill after the check in point. Electrolyte sachets for rehydration and to aid jet lag. Anti-bacterial throat spray to help fight any illness that may circulate in the plane cabin.
---
QUOTE OF THE WEEK: ABRAHAM LINCOLN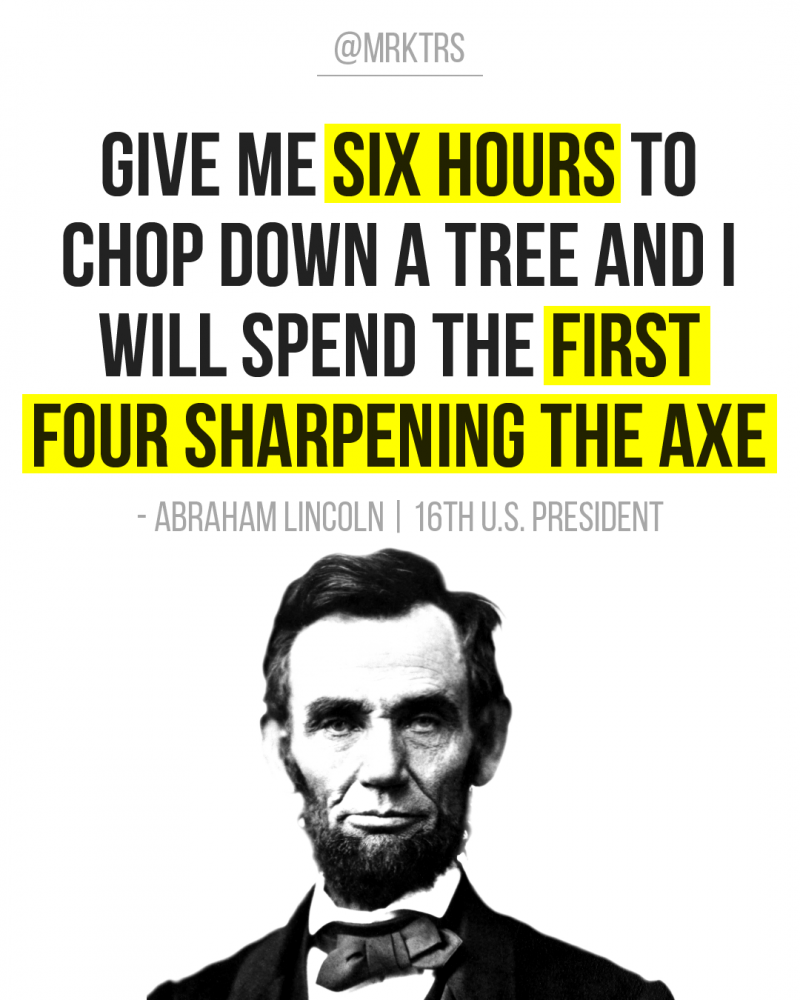 Stop diving in and hacking at the tree with a blunt axe. Inefficient tools waste your energy. Preparation is key to working smarter and more efficiently.
It's better to spend the majority of your time planning then finding and cultivating the best tools or knowledge to complete tasks. Then cut down your proverbial tree with one fell swoop.
---
Stay tuned for the next edition of MRKTRS WKLY.
Want to offer some feedback or submit content? Email us at [email protected]