---
? Bangkok, Thailand
---

MRKTRS 

x

 STM WKLY #63
---
DANILO'S PUBLIC LEAD GEN CASE STUDY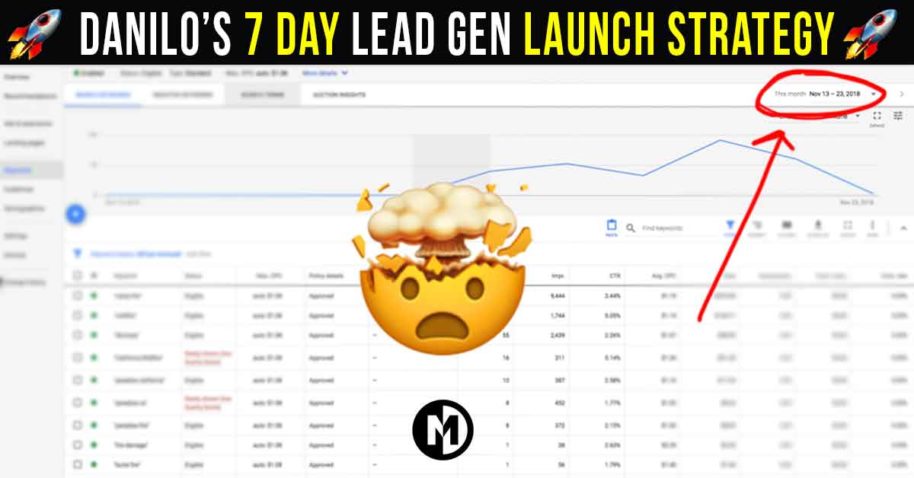 Danilo Lee heads up DLO Media, a world class growth and acquisition marketing agency specializing in paid search and pay-per-call lead gen. As a man who doesn't do things half-assed, he's got something special planned when he headlines Affiliate World Asia next week.
We heard murmurings of a reveal-all lead gen case study that he's still currently running, and he'd be bringing his stats to the party.
We caught up with Affiliate World Conference Head of Content and Strategic Partnerships Chad Wilton, and asked him on the 411 with Danilo's debut:
"Danilo isn't one to hit the speaker circuit, he's one of the affiliates in the space everyone knows about, but is normally way too busy grinding on campaigns or helping others, to ever enter the spotlight. I'm purely cashing in on a favour getting him on stage and the audience won't know what hit them.
He wanted his big splash on stage to be worth it so he's gone and built a profitable lead gen brand in 7 days, geared towards helping US citizens affected by the California fires get insurance coverage through legal support.
To say it's going to be fresh off the press content is an understatement too, the stats and screenshots you're going to see will literally be from the day before.
He'll be going step-by-step through how he built his campaigns from the ground-up, leveraging Youtube Ads and hyper targeting. Plus he's going to reveal the meat, the sauce and all the trimmings ie the insane stats."
>> Read more <<
---
7 SEO LESSONS FROM A GOOGLE EMPLOYEE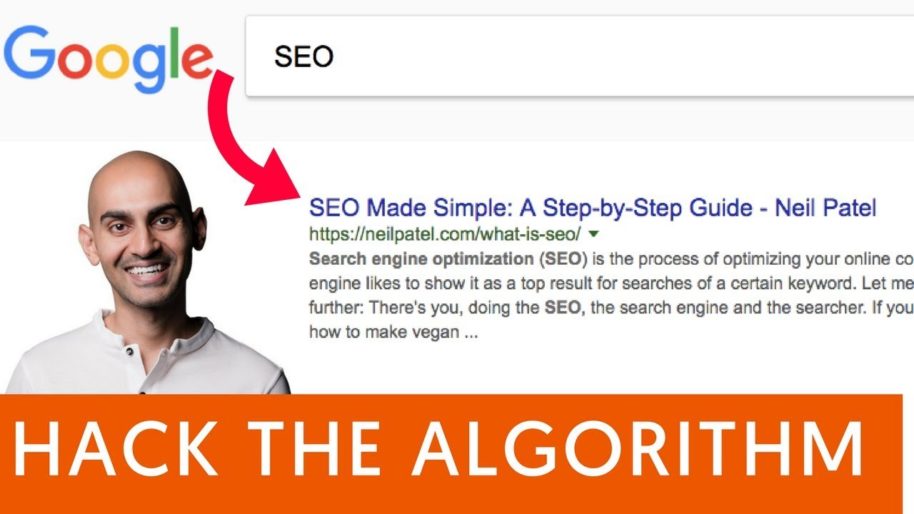 Do you know Neil Patel? I'm pretty sure you do, he's something of a celebrity in the online marketing world. You might be following his blog at neilpatel.com/blog/, where Neil regularly posts VERY long articles about traffic generating techniques. These articles are well detailed, so they're always worth a read.
Neil's focused particularly on organic traffic and SEO and that's also the area he posts the most valuable content about. Just like this strong piece, titled : "The 7 Biggest SEO Lessons I Learned from a Google Employee".
Let's take a look at them 1 by 1:
(Disclaimer: We're not saying we agree with all the points, just presenting Neil's findings and opinions)
1. Penalizations and bans don't work the way most people think … instead of banning sites for "artificial links", they try to detect such links and ignore them.
2. Google prefers automation … both when it comes to Google's own processes as well as back-ends of web properties. As long as you do what's best for your users, Google loves if it's an automated process.
3. Don't waste your money on expired domains (or other shortcuts) … with all the info that Google gathers about domains, it's only a matter of time you'll lose the positive effect gained from expired domains.
4. Google ignores most guest post links … pretty much all large platforms that allow guest posts are using no_follow links. On top of that, guest posts are easily detectable and Google knows that.
5. Google isn't trying to take clicks away from your website, they are trying to build a better product … all the decisions made by Google are driven by what the user data tells them. They're not trying to keep traffic on their site, they just want satisfied repeat visitors.
6. The biggest search opportunity currently lies in YouTube … compared to Google, Youtube offers less competition, way less people generating content (video VS text), longer average session duration … and Youtube is the 2nd most trafficked website, right after Google 🙂
7. You are not going to like the future … in other words, it's not gonna stay the same. The search habits of users are changing and Google knows that. Voice search commands are on the rise, just as Smart devices are … and Google wants to be there. So prepare for more changes in the future, they are coming and it's inevitable.
---
WEEKLY PICKS:
HERE WE GO – Loz Green shared an incredible throwback video in the MRKTRS Group of AWasia and all its awesomeness. Don't watch this if you're not going and want to avoid experiencing serious FOMO ? — Watch Now
GREATNESS – Cards Against Humanity created the greatest landing page to ever grace Black Friday – check it out here. The company is no stranger to bizarre holiday sales. ?️  — Read more
INFLUENCER – Here's a look behind-the-scenes of the brutal world of Instagram influencers. Prices have 10x in the last two years, but that's only just the beginning…? — Read more
BITCOIN – 80%+ drops from its all-time high is nothing new for Bitcoin. Here's a look at past data that might make you feel better. ? — Read more 
CRYPTO CRASH – Winter is here for the crypto market, but what are the main factors behind the recent collapse in prices? Here's 5 reasons why Crypto is plunging. ? — Read more
THE KING – Remotely interested in sports? Entrepreneurship? You need to listen to this. Tim Ferriss dives deep for 60 minutes of gold with LeBron James and his secret trainer Mike Mancias (who's developed a winning human-performance blueprint) to talk preparation, mindset and building businesses. ? — Read more
---
INSIDE THE  

$100M ECOMMERCE ACQUISITION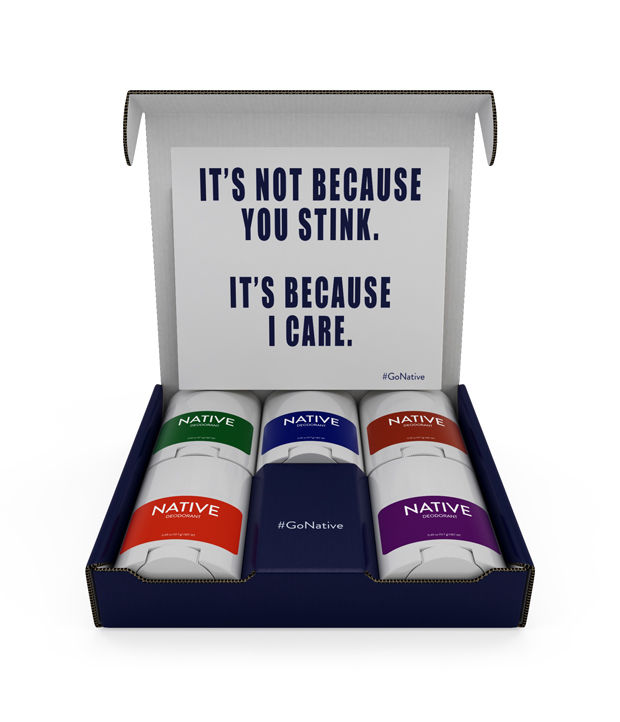 Procter&Gamble's $100 million acquisition of Native Deodorant was one of the first major acquisitions in the lifestyle eCommerce space last year.
Their story represents what's possible by creating an incredible brand, around just a single product.
What's even more crazy is that it took Moiz Ali just 2.5 years to acquire over a million customers.
So how did he do it? It all boiled down to four key factors:
Mission statement: Stand out from the crowd. Show people why they can trust you.
Constant feedback loop: Really understand your customers — what they LOVE and what they don't like about your brand. Fix the latter.
Retention: Happy customers = loyal customers. Build your business in a way that stimulates repeat business.
Optimized acquisition: Test and track the performance of different channels. Choose the best and scale.
Did you know they motored through 24 versions of the deodorant in just a year and a half? That's dedication. And the power of the feedback loop.
>> Read More << 
---
FEATURED STM THREAD:

ANOTHER GREAT TUTORIAL FROM ATTILA
Attila from iamattila.com used to be a frequent poster on the STM forum, and still remains one of the TOP10 thanked members of all time. When life got busy for him, the posting frequency went down of course, but things seem to be turning around … recently he posted 2 long tutorials that you definitely don't want to miss. One was a failed campaign with all details revealed, the next one was a tutorial on creating custom audiences in Facebook.
As long as we know, STM is the only affiliate marketing forum where Attila is posting, so if you want advice from this skilled marketer, you know where to find him.
>> Check it out here << 
---
Stay tuned for the next edition of MRKTRS WKLY.
Want to offer some feedback or submit content? Email us at [email protected]