---
? Bangkok, Thailand
---

MRKTRS 

x

 STM WKLY #61
---
AWASIA LINEUP REVEALED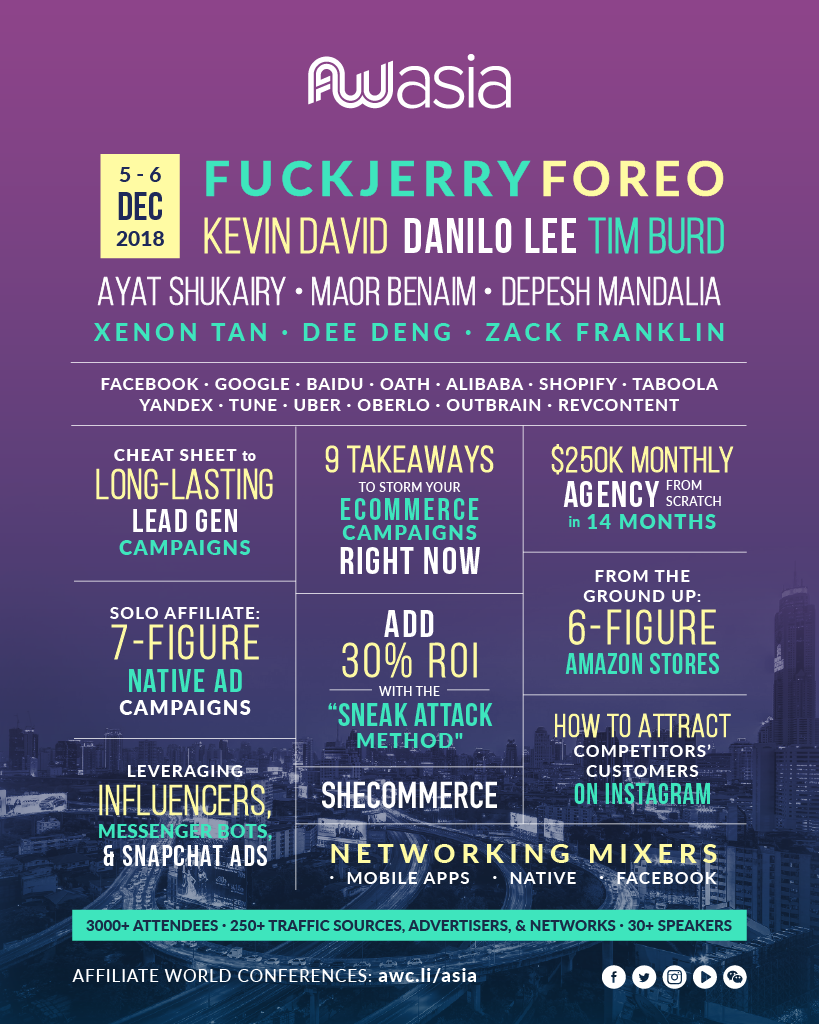 AWasia is fast approaching and this is one hell of a lineup! ☝️
Located in the most-visited city in the world (Bangkok), this is set to be the biggest Affiliate World Conference yet!
Here's a taster of the goodness that awaits on the 5th-6th December:
?️ Tim Burd will be sharing his super-effective "Sneak Attack Method" that will help Facebook affiliates increase their ROI by up to 30% via manual bidding.
?️ Find out Danilo Lee's best-kept secrets of lead generation at mega-scale. He's going to show you how he applies the same tactics to his affiliate campaigns as well as those of his Fortune 500 clients.

?️ Learn how to increase your CRO by 65%+ through A/B testing methods by catching Ayat Shukairy onstage where she'll be sharing eye-opening case studies.
?️ Depesh Mandalia's nine actionable takeaways covering everything you'll need to make your ecommerce campaigns dominate.
?️ Frank Ravenelli represents FOREO, the company sold a product every 3 SECONDS last year. With almost two decades in the performance marketing space, he was vital in developing the strategy that launched them to 10-figures.
Plus all the crazy networking events and parties that come hand-in-hand with any Affiliate World Conference.
Check out our Weekly Picks section below for more AWasia goodness!
>> View Festival Poster in all its glory <<
---
GOOGLE TO KILL CARRIER BILLING OFFERS FOR GOOD?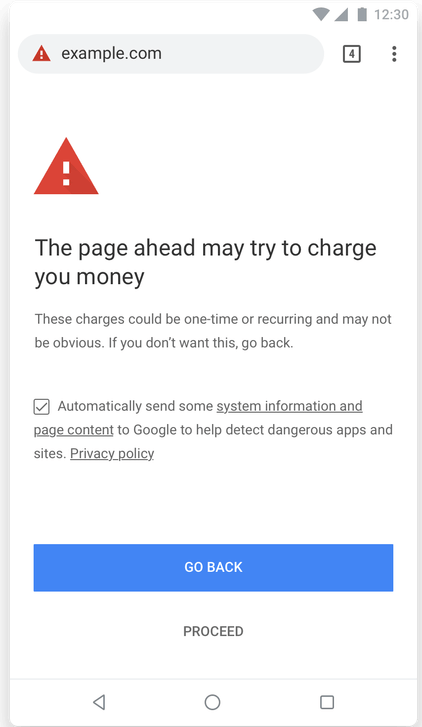 Last week we shared the upcoming Google Chrome 71 update and their plans to block all ads on websites that serve even a single misleading/harmful ad. But there's more… Google want to warn users about "unclear mobile billing practices".
Translated into affiliate jargon, they are about to hammer the final nail in the coffin of carrier billing PIN submit offers, at least when it comes to Google Chrome traffic.
That's why we have seen such a dramatic decrease in the whole carrier billing segment … regulations are to blame. Anyone who has run some volume in the PIN submit vertical, knows that any additional regulation, warning or confirmation step, only worsens conversion rates and hinders impulse buyers. It's almost impossible to make it profitable.
Now let's be honest, this model has been abused by both affiliates and advertisers, so regulators simply had to step in. Our concern is that Google simply take it to far and as a result will eliminate the whole carrier billing niche. Which would be a significant loss for everyone trying to monetize emerging markets … there simply isn't any payment method that could work on such a large scale as carrier billing.
At least not for now.
---
WEEKLY PICKS: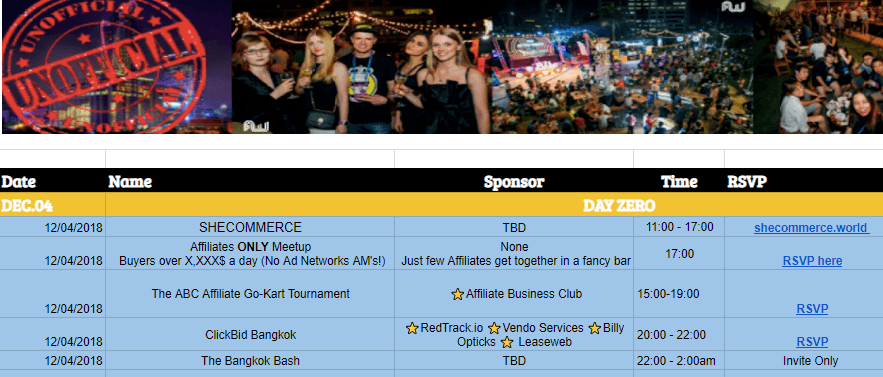 PARTY – The unofficial AWA Bangkok party guide by MRKTR Hen has just dropped and it's a must-read for affiliates attending next month.  ? — Check it out

TRAVEL – Thinking of traveling before/after AWA Bangkok next month? Advidi have put together a useful list of 6 must-see destinations close to Thailand ?? — Read more

BIT GOLD – Nick Szabo is a hot contender for secretly being Satoshi Nakamoto (the inventor of Bitcoin). He invented Smart Contracts and created Bit Gold, what is considered to be the precursor to bitcoin. Here's how he did it. ? — Read more
CROOK TO COOK – Stuck for a Thanksgiving recipe? Snoop Dogg's got you covered in his new cookbook. Yep… You read that right. ♨️ — Read more
BLACK FRIDAY – For those Ecom affiliates, here's the ultimate social media guide for preparing for Black Friday (23rd November). Check out the examples of viral content that kills it for some solid inspiration to stand out from the crowd. ? — Check it out
---
ECOMMERCE DEAD? FAR FROM IT, ALIBABA BROKE ANOTHER RECORD!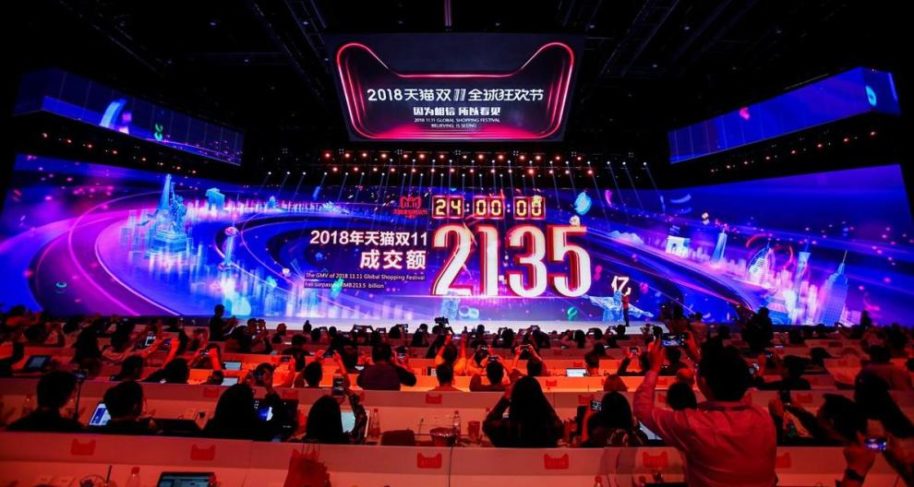 Affiliates love to play the roles of doomsday prophets … PPC is dying, Adult is dying, Affiliate marketing as a whole is dying … the latest vertical dying is ecommerce, according to numerous social media posts we see cropping up.
The reality is different and it mostly has to do with a vertical reaching its maturity, hence becoming somewhat saturated, regulated and loses the initial hype. Which means it's not such an easy moneymaker anymore, but those who persevere will continue to bank hard. 
Take ecommerce as an example. The days of setting up a "store" with 5 products dropshipped from China, charging 2000% premium… Well, that's pretty much over. But the ecom industry as a whole is still growing, more and more people are shopping online and it can't be stopped.
Enter: "Singles Day". First popularized as an antidote to Valentines' Day ten years ago by Alibaba, is China's version of Black Friday. The date 11.11 represents 4 single people.
The numbers are mind blowing. In 2018, the 10th anniversary, total sales reached:
$31,000,000,000 in total sales
That's a 27% growth from 2017
Over 1,000,000,000 orders were shipped
… all within ONE. SINGLE. DAY!
If this isn't a clear sign of ecommerce still booming, then we don't know what is. There is a ton of opportunity in this vertical, people from around the world are hungry to shop more and more… Just give them what they want, on terms they'll be happy with.
>> Read More <<
---
FEATURED STM THREAD:  
THE NEWBIES BIBLE, AMY'S 40-DAY TUTORIAL, IS REVAMPED!
This guide has helped countless affiliates make their first $$$ in affiliate marketing and Amy has given it a revamp to reflect the changes that happened in our industry over the past year.
The updated lessons are already being rolled out and posted on the STM Forum, while receiving plenty of positive feedback from STM members.
>> Check out the guide here <<
---
Stay tuned for the next edition of MRKTRS WKLY.
Want to offer some feedback or submit content? Email us at [email protected]