---
? MRKTRS HQ
---
If you're after a way to reinvigorate your work day by reading an inspirational quote about 'working hard in silence to let success make the noise' or about how 'teamwork makes the dreamwork' – you've come to the wrong place.
This isn't your usual set of cliche inspirational quotes.
Below is a collection of some of the finest words uttered by the greatest entrepreneurial minds in this world that have plenty of substance and real value.
1. Henry Ford ? Remember…The airplane takes off against the wind
"When everything seems to be going against you, Remember that the airplane takes off against the wind, not with it." – Henry Ford.
Case in point. Henry Ford knew the intense competition he faced when he decided to manufacture and distribute Ford Motor Company's first car in 1908.
He didn't reinvent the wheel, but took the bull by the horns and applied the 'assembly line' manufacturing technique to the motor industry for the first time. They produced the same amount of vehicles as their competitors with 1/5th of the staff. It revolutionized transportation across the globe.
Ford became one of the world's richest men. ??
2. Mark Zuckerberg ? The greatest risk is not taking any risk…
"The biggest risk is not taking any risk. In a world that's changing really quickly, the only strategy that is guaranteed to fail is not taking risks." – Mark Zuckerberg.
Mark practices what he preaches. He bought a 13-person app company for $1 Billion. It's called "Instagram". Now it looks like one of the most brilliant tech acquisitions ever made. ??
3. Sara Blakely ? Be willing to make mistakes.
"It's important to be willing to make mistakes. The worst thing that can happen is you become memorable." – Sara Blakely.
Sarah Blakely was always destined for greatness with the mentoring she received at a young age. "My dad encouraged us to fail growing up. He would ask us what we failed at that week. It changed my mindset at an early age that failure is not the outcome–failure is not trying. Don't be afraid to fail."
She sold faxes door-to-door, saved up $5,000 to create the first SPANX pantyhose prototype, was constantly rejected by manufacturers but one company took a risk on her and the rest is history. Sarah's became the world's youngest self-made female billionaire at 41. ???
4. Reid Hoffman ?  Don't launch too late
"If you are not embarrassed by the first version of your product, you've launched too late." – Reid Hoffman.
Reid Hoffman believes there is no point in delaying the launch of your start-up's product and attempting to 'perfect' it. But launch ASAP and learn from customer feedback. Iterate, adapt and perfect along the way. You'll be embarrassed by the wrong assumptions you made at the start. ?
5. Steve Jobs ? Leader v follower
"Innovation distinguishes between a leader and a follower." – Steve Jobs.
A follower markets what exists. Leaders create what does not. Steve Jobs was one the world's great innovators.?He built Apple on his vision of how people should use their products and services. Without it they would've been left behind. That's why his company was worth $354 billion the day he died.
6. Will Smith ? Being realistic = mediocrity
"Being realistic is the most commonly traveled road to mediocrity." – Will Smith.
Will Smith has always dreamt unrealistically big. Nobody would have predicted the MC of a hip-hop group with Jazzy Jeff would go from the Fresh Prince of Bell Air to become a multi-millionaire movie superstar.
How did he do it? He analyzed movies for their insights and patterns and found out that the top grossing movies included special effects, a love story, and creatures. "Men in Black" and "Independence Day" ended having a box-office success of $1.3 billion collectively.
And he continued to apply his analytical approach to choosing movies despite other competing top actors 'following their gut'. That's why he earns upwards of $30million per movie. He's now worth a cool $260 million thanks to his hunger to work and invest in entrepreneurial ventures.??
7. Thomas Edison ? I have not failed
"I have not failed. I've just found 10,000 ways that won't work." – Thomas A. Edison.
Thomas Edison didn't believe in failure. He understood he couldn't be successful without testing. Along the road to inventing the incandescent electric light bulb, alkaline batteries, telegraph and the phonograph, Edison held an incredible 1,093 U.S. patents. ?
What nobody discusses is he also filed an additional 500 to 600 that were unsuccessful or abandoned. But his 'failures' were vital in his journey to success. He became one of America's most important businessmen. ?
8. Mark Zuckerberg ? Move fast and break things
"Move fast and break things. Unless you are breaking stuff, you are not moving fast enough." – Mark Zuckerberg.
Facebook don't always get it right the first time. Or the second. But that doesn't stop them launching new ideas fast and being at the forefront of new technology.
Nobody remembers the failed Facebook Inbox launched in 2010, but now Facebook Messenger has 1.2 billion users.
Facebook launched Lite in 2010 to help with slower broadband connections that died eight months later. Now they have Instant Articles for lightening speed reading on mobile.
They launched Poke and Slingshot in 2014 to compete with Snapchat. Both failed. But now Facebook & Instagram stories plus Whatsapp Status (all owned by Zuck) are crushing it!
9. Chinese Proverb ? The best time to plant a tree…
"The best time to plant a tree was 20 years ago. The second best time is NOW." – Chinese Proverb.
❗️FACT: Aged 6️⃣2️⃣Colonel Sanders franchised his first KFC restaurant. Aged 6️⃣1️⃣ Charles Flint founded IBM. Aged 5️⃣1️⃣ Gordon Bowker founded Starbucks. Aged 4️⃣1️⃣ Asa Candler founded Coca-Cola. Age is NOT a factor in taking action and dominating.
10. Nelson Mandela ? I never lose.
"I never lose. I either win, or I learn." – Nelson Mandela.
If you win, you will be happy. If you fail, you will be wise. Trying things as an entrepreneur is a no brainer.
11. Mark Zuckerberg ? Work on stuff that you're passionate about
"If you just work on stuff that you like and you're passionate about, you don't have to have a master plan with how things will play out." – Mark Zuckerberg.
Another entry from Zuck. He loves his inspirational quotes.
Out of a passion for programming, a college kid Zuckerberg developed a study tool that enabled his classmates to comment on random pieces of art to strengthen their understanding of art history, the knowledge was shared with one another.
This social tool was the first true version of Facebook.
12. Unknown ? Nothing grows in a comfort zone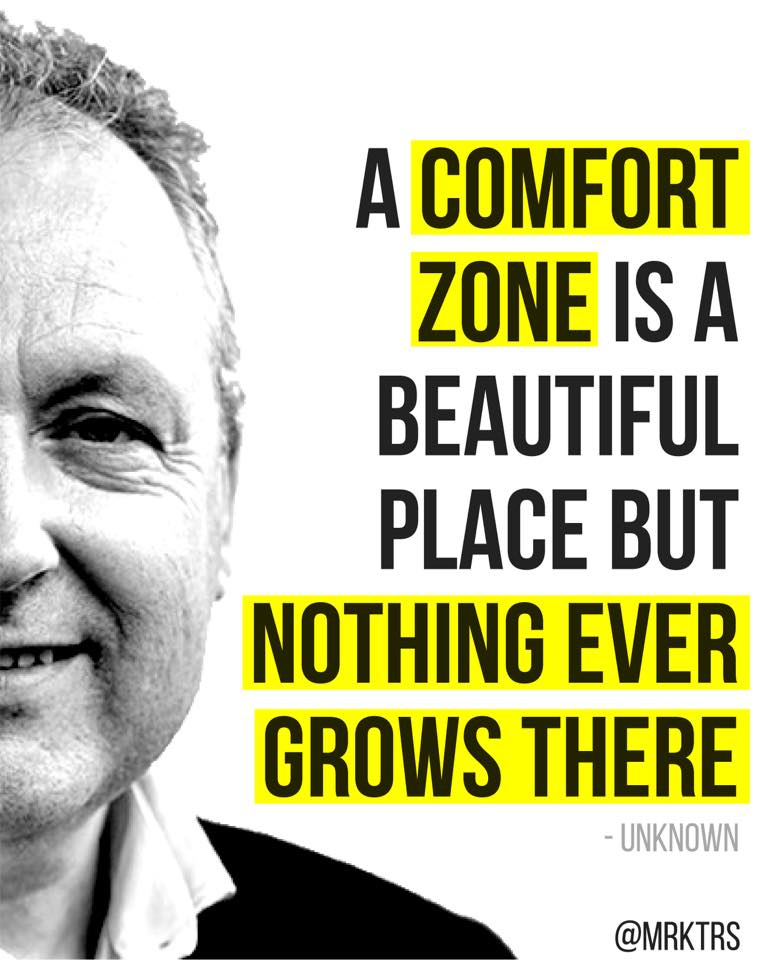 "A comfort zone is a beautiful place but nothing ever grows there." – Unknown.
Here's an example that typifies this inspirational quote:
?"I really enjoy public speaking, because it's terrifying." Rod Drury, New Zealand's richest man with a net worth of $500million.?He once had a stutter so bad he couldn't answer the phone at his first corporate job. Now he addresses 1,000's of people every week.
Drury is a classic example of an ultra-successful tech entrepreneur who cannot sit still and is constantly putting himself out of his comfort zone. In 1995, he established Glazier Systems and sold it in 1999 for $7 million. He then founded AfterMail, which was acquired for $15 million. Then the big one – he established Xero in 2006, the now-global accounting SaaS company that has handled $1.2 trillion worth of economic activity in the last twelve months. ?
13. Oprah Winfrey ? Luck is preparation meeting opportunity
"I feel that luck is preparation meeting opportunity." – Oprah Winfrey.
Oprah Winfrey didn't have luck. Her unique skillset even cost her first job. She became famous because she could interact and express empathy with anyone – no matter their circumstances. She became rich because she networked. Hard. And grasped every opportunity that came about to expand her brand and companies.
Now she's worth $3billion. ???
14. Albert Einstein ? Everbody is a genius
"Everybody is a genius. But if you judge a fish by its ability to climb a tree, it will live its whole life believing that it is stupid." – Albert Einstein.
At school there were those kids that got straight A's, destined for a bright future. Then there were those kids that got straight D's, who were destined to struggle ➖None of that matters anymore➖. Today everyone has full control on what they want to be judged on. No excuses. Anyone with a laptop and wifi can earn a living. What you do outside of work is completely up to you. ?
15. Conor McGregor ? Doubt is only removed by action
"Doubt is only removed by action. If you're not working then that's where doubt comes in." – Conor McGregor.
There's no talent here, this is hard work. This is an OBSESSION. Talent does not exist, we are all equal as human beings. You could be anyone if you put in the time. You will reach the top, and that is that. I am not talented, I am OBSESSED. – Conor Mcgregor. 'Nuff said.
16. Elon Musk ? View knowledge as a semantic tree
"View knowledge as sort of a semantic tree – make sure you understand the fundamental principles, like the trunk and big branches, before you get into the leaves/details or there is nothing for them to hang on to." – Elon Musk.
This is Musk's key to his incredible success across so many different industries. He learnt and understood the foundational principles – i.e. the trunk – that are key to understanding artificial intelligence, technology, physics, and engineering.
He then constantly applied what he learned by deconstructing ideas into their fundamental principles and reconstructing them in new ways across different fields:
• In aerospace in order to create SpaceX
• In automotive in order to create Tesla with self-driving features
• In trains in order to envision the Hyperloop
• In aviation in order to envision electric aircraft that take off and land vertically
• In technology in order to envision a neural lace that interfaces your brain
• In technology in order to help build PayPal
• In technology in order to co-found OpenAI.
Musk understands these industries from root to leaf. ??
17. Jeff Bezos ? Evolve. Or else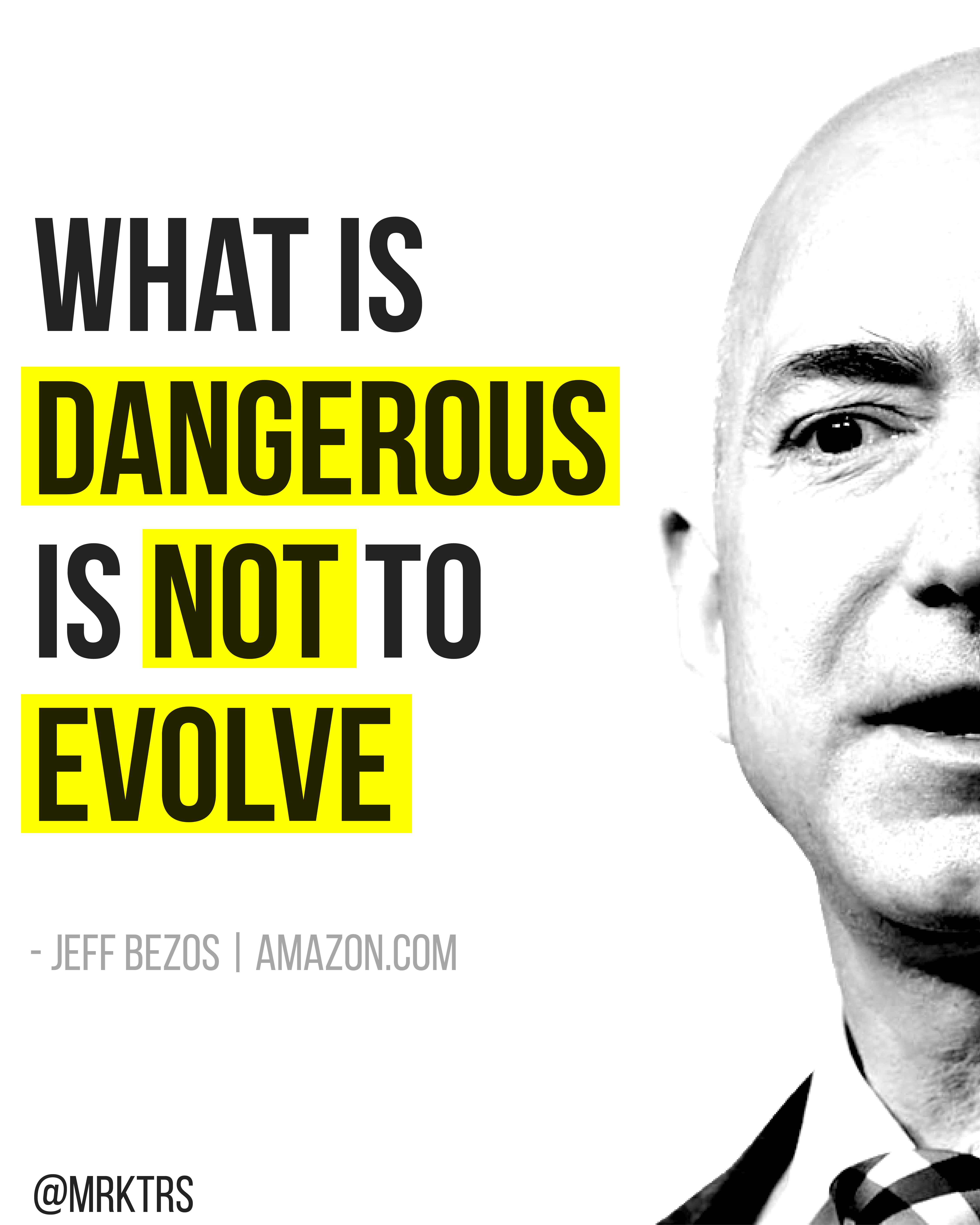 "What is dangerous is not to evolve." – Jeff Bezos.
Case in point?Amazon are the leaders in a huge range of fields because they innovate and evolve ahead of the curve. They started as an online book store. ? Now they can deliver almost anything overnight. ?
They've launched Web services, e-readers, TV and music streaming services, are testing drone deliveries and now own one of the most famous supermarket chains in America – Whole Foods Market – for a cool $13.7 billion. ???
Jeff Bezos doesn't sit still. And that's why Amazon is one of the most formidable companies on the planet.
18. Charles Darwin ? Adapat to survive
"It is not the strongest of the species that survives, nor the most intelligent that survives. It is the one that is the most adaptable to change." – Charles Darwin.
The internet is a constantly evolving landscape, you must adapt and innovate to blow away your competitors. There will always be overnight success stories, but the ones that stick around and do the big numbers, they are the ones who embrace change??
19. Jack Ma ? Rejection makes you stronger
"When KFC came to China, 24 people went for the job. 23 people were accepted, except 1, me." – Jack Ma
Jack Ma is now the 33rd richest person in the world. Jack Ma now owns KFC China. Jack Ma never gives up and forgets rejection. Jack Ma is a savage.
20. Yoda ? There is no try
"Do. Or do not. There is no try." – Yoda.
'Try' isn't even a real word.
What was your favourite quote? Tell us below in the comments section. ??